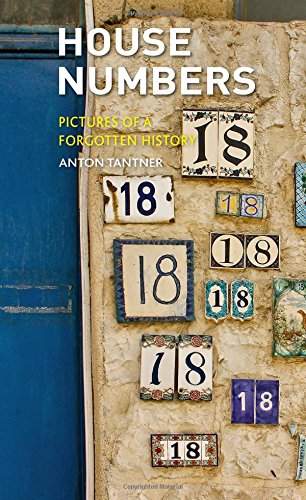 Sehr schön, ab sofort kann auch ein englischsprachiges Publikum mein Hausnummernbuch lesen: Im Vergleich zum 2007 erschienenen deutschen Original ist der Text auf den neuesten Forschungsstand gebracht worden, außerdem ist er um ein Drittel umfangreicher sowie um etliche Hausnummernfotos ergänzt, sodass das Buch auch als regelrechter Bildband durchgehen kann.
Besonders freut mich selbstredend das "endorsement" von Peter Burke, zu lesen auch auf dem Buchrücken:
Sherlock Holmes famously observed that small details are often valuable clues to something larger. In similar fashion Anton Tantner, a historical sleuth, shows that the history of house numbers sheds more light on the Enlightenment as well as on the rise of the surveillance state.
- Peter Burke, Emeritus Professor of Cultural History, University of Cambridge
Sonst lautet die Verlagsankündigung wie folgt:
House numbers are small things that appear quietly on the walls, gates and porches of our homes and places of work. They seem to have come from nowhere and are now taken for granted in everyday life. But house numbers have their own history – one that is retrieved, assembled and presented here, for the first time, in vivid images from around the world.

House numbers started their lives in a grey area between the military, the tax authorities and early police forces. Anton Tantner's engaging, intriguingly quirky book is a chronicle of the house number, from its introduction in European towns in the eighteenth century through the spread of the numbering system in the nineteenth century to its global adoption today. It also reveals that there was often opposition to this convention – those living at their allotted addresses have not always been too happy about their houses being given numbers.

House Numbers is full of original research and is extensively illustrated, with photographs showing historic house numbers and addresses, from Nought, Strand-on-the-Green in London to 1819 Ruston, Louisiana. Its narrative will alter the way you walk around a city, as these seemingly minor, insignificant aspects of our houses and streets become links to a broad and fascinating history.
Tantner, Anton: House Numbers. Pictures of a Forgotten History. London: Reaktion, 2015. Translated by Anthony Mathews, ISBN 978-1-78023-518-9, £12.95, 200 Seiten, 128 Abbildungen [
Verlags-Info
]